---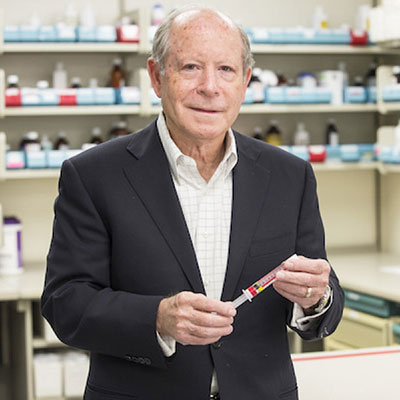 ---
Passion is the word that best captures David Jonas's essence.  His passion for life, Israel, family and friends was unmatched.  It was the key ingredient in his success.  When he took something on, he took it on with all the passion in the world.  He infused his passion equally between his philanthropic initiatives and his business affairs.  In fact, he approached both in a very similar manner.  Throughout his entire professional career he was always involved in not-for-profit, philanthropic activities.  Whether it be promoting trade between Israel and the United States by founding the AIBEX initiative in partnership with the American Israel Chamber of Commerce or actively supporting numerous organizations, including ELNET, Foundation For Defense of Democracies (FDD), StandwithUs, Stand Strong, Friends of the Israel Defense Forces (FIDF), and countless others until his very last breath.  His passion was infectious and often provided people and organizations with the push or the momentum required to reach their goals.
David's story represents everything that is right in this world. He exemplified that with drive and a strong work ethic, anything can be accomplished. He came from modest means and had to figure it all out on his own. No one mapped it out for him or took him under their wing to carve the path for him. He had to prove himself and earn every step on his own merit.
He was born on a kibbutz called Maoz Haim in the Jordan Valley, just a hop, skip and a roll away from the Israeli/Jordanian border.  After serving four years in the Israel Defense Forces and a formative year in London, David landed in Dekalb, IL to attend Northern Illinois University.  All he had were two suitcases.  From there he found his way to Chicago, where he attended Roosevelt University.  He worked his way through college, including at the Blommer Chocolate Factory.  He never expected any handouts and was simply grateful to have a job.  
David eventually pursued a career at Baxter International, a blue chip, blue blood company where he started as a controller of its Travenol subsidiary in Israel.  After a stint as an assistant plant manager in Baxter's largest manufacturing facility in Marion, North Carolina, David eventually became the General Manager of Travenol.  Under his leadership, Travenol consistently topped the performance rankings in Baxter's International division.  David continued to advance within Baxter to become the Vice President of Worldwide Corporate Development.  In this role, David led and executed countless investments, joint ventures, and divestitures.  In his last role at Baxter, David co-founded a wholly-owned subsidiary Renal Therapy Services (RTS).  RTS owned and operated hundreds of dialysis clinics all over the world.  David orchestrated the acquisition and integration of all of these dialysis clinics.  
Most people would have finished off their career at a company like that and retire with a nice pension.  That in and of itself would have been an amazing accomplishment for anyone, let alone someone who came to Chicago from Israel not knowing a soul and just a couple of suitcases in hand.  
Instead, David decided to leave Baxter and start what would become a wildly successful business called PharMEDium Healthcare Corporation. He built PharMEDium from the ground up into the nation's leading outsource sterile compounding pharmacy services provider with over one thousand employees directly supplying approximately sixty percent or more than three thousand of the nation's acute care hospitals. David grew PharMEDium at a compounded annual growth rate of approximately thirty percent over nearly fifteen years.
After selling PharMEDium, David focused his attention on JVC Investment Partners (JVC), through which he amassed a vast portfolio ranging from cattle ranching to cellular therapy biotech companies.  Through JVC, David looked to partner with entrepreneurs, innovators and businesses in their quest to realize their full potential.  JVC's portfolio companies all benefited from David's vast experience as an entrepreneur and a corporate executive.  
In addition to his passion for business, David placed family above all.  He was married for 47 years when his wife Etta passed away from cancer.  He lived within minutes from each of his three children and nine grandchildren with whom he frequently visited and traveled.  David is sorely missed, but his legacy lives on through JVC, Elm Family Foundation, his children and grandchildren.  

---
650 Dundee Road, Suite 380, Northbrook, IL 60062
P: 847.960.3840 | E: info@jvcmanagement.com
---
Investing our own capital in people with great vision, technologies and promise.
---
© JVC Investment Partners, All Rights Reserved.